MANY LINKS
---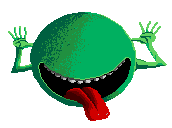 ---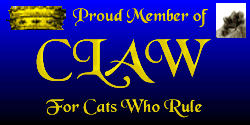 Come check out the society for cats only! This is a great bunch of felines.I'm in their web ring!

Have your humans check this out. This will help them to keep you healthy until we take over the world.
America's finest news source. Check this out to see how silly some humans are.
Chicago's free news weekly. A fine source for news and entertainment.
My human's page. She put me on a diet because I didn't have her listed here, perhaps now she will take me off this rotten diet.
An excellent source for animal news and health related items.
A great source for healthcare information.
The American Veterinary Medical Association site. You can look for a good vet here or just browse around and find out about stuff.
My human's friend's page. She said she'd feed me more if I link her here, but she still hasn't yet.
My new friends' Domino & Bianca's human's page. She said she'd link to me, so I'm going to link to her!
| Home | My Journal | Photo Gallery |